Gutter Cleaning
Commercial gutter cleaning services are available upon request. Prevent costly ice dam damage, basement flooding and potential slip & fall liability due to icy ground conditions. We already have the experience with lifts, ladders & roof access and the necessary equipment. We have performed gutter clean-outs on properties throughout New England.
*Property audit performed during service to identify potential problems with roof, caulking, window units, downspouts, etc.
---
Clean gutters are an important key to avoiding major and expensive repairs. Gutters perform one duty: controlling the water around your structure. And if debris keeps them from doing their job, then you can wind up with some serious problems.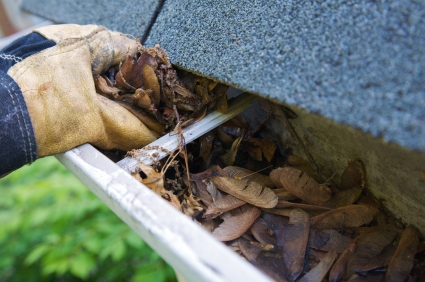 LEAKING BASEMENTS – Clogged gutters are the number one cause of basement water problems. Roof water overflows and accumulates around the foundation. If this happens, basement leaks may be moments away.
CRACKED FOUNDATIONS – Excess water against the foundation wall can weaken the footing and lead to cracks. This is particularly true in the colder months when built-up water at the foundation freezes and causes a condition known as "frost-heave" which can cause severe cracks to foundation walls.
ROTTEN WOOD – Water backing up from clogged gutters will cause moisture damage to any wood fascia. The rotted area will get worse quickly if the leak is not eliminated by cleaning the gutters.
LEAKING ROOFS – In winter, ice-dams can form on top of clogged gutters. Then snow builds up across the top of the gutter and freezes. During the next thaw, water running off the roof is blocked by the frozen snow and backs up into the structure. This can lead to major wall and ceiling damage.
SLIPPERY SIDEWALKS – Overflowing gutters can deposit water on walks and driveways where it can freeze and cause a tripping hazard. Avoid this problem by keeping gutter clean and the spouts extended away from any traffic areas.
AGING DRIVEWAYS – Misdirected and clogged gutter spouts often cause driveways and walks to sag and crack.
WASHED-OUT LANDSCAPING – Any newly installed plants, grass or trees can be killed by excess water. Overflowing gutters can cause severe erosion and put an early end to young plantings.